San Onofre Bluffs Campground is one of the most amazing untouched parks/beaches you'll go to in Southern California. No cell reception forces you to unplug while you're there and allow you to truly take everything in. It actually felt good to be off the grid for awhile and focus on the family and not be distracted.
We packed a cooler bag with food and headed down early one Sunday morning with the kids. I like driving South on the 5 freeway from OC because it's such a pretty drive, especially when you get past San Clemente. It's $15 parking for day visitors. San Onofre Bluffs Campground has great RV and camping facilities. Which I think would be an incredible experience to have with the kids one day. So will definitely put a pin in it for that idea.
California has issued a Regional Stay At Home Order so many campgrounds across the state remain temporarily closed. So it was very quiet. I would imagine in the full swing of summer, pre-pandemic/post-pandemic, San Onofre Bluffs Campground would be packed. I liked that it was quiet tho. It was so peaceful.
We took the Basilone Exit from the 5 Freeway and continued along the Old Pacific Coast Hwy to the entrance of San Onofre Bluffs Campground – which is about 3 miles from the exit. Once into the park, we drove another mile and parked. There are many trails to choose from to get down to the beach. We decided to walk down the Trail Dino Egg. Usually we have a wagon that carries our gear but we knew we'd have to carry our stuff on these trails. Fully loaded with our Tommy Bahama chairs on our back, our trusty cooler bag from Trader Joes, a beach bag, kids toy backpack, camera bag, an umbrella, and a beach tent, we headed out on the trail.
The bluffs were mesmerizing. The seasonal streams cut through the coastal terrace, eroding beautiful patterns into the earth. It's important to note that you should always stay on the designated trails and beware of falling rocks while walking around.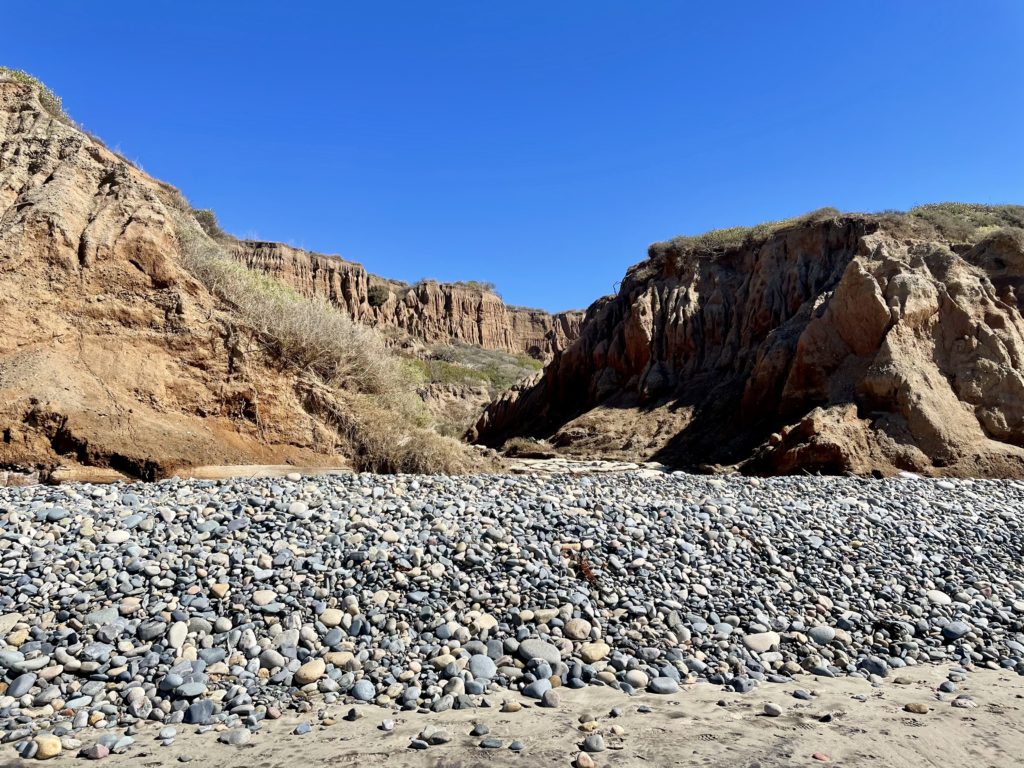 Once we got to the beach, we walked a lil south and found another trail heading back into the Bluffs. Dropped our stuff on the beach and heading up the trail to explore. What a beautiful trail! Remember, respect the bluffs and tread lightly and watch out for falling rocks. We didn't have any issues, but we definitely didn't take that for granted.
We continued south on the beach and found a perfect spot to set up for the day. There were a few rocks in front which created some pools. So the kids couldn't resist, even tho the water was freezing, they had to swim. There were a few fishermen on the beach and few people walking along, but no one near us for about 200 yards. Felt like we were in the middle of nowhere, just us.
It's such a lovely stretch of beach to walk. Lots of driftwood structures to admire that beachgoers have built. Lots of beautiful rock formations on the beach. Such untouched beauty and lush Californian coast vegetation. Truly one of a kind.
The wind, unfortunately, picks up around 2-3ish here in So-Cal. It then dies down again around sunset hour. On sunny winter days like this, it gets pretty chilly. Luckily we brought the beach tent and were able to sit out of the wind and have lunch and relax until it died down. We love this tent. We've used it endless times since the kids were born and it's still going strong.
When it was time to leave, we continued south on the beach and went up Beach Trail #3, to head back to the car. This trail was a lil steeper but totally worth it for the views of the bluffs and down the coastline towards San Siego.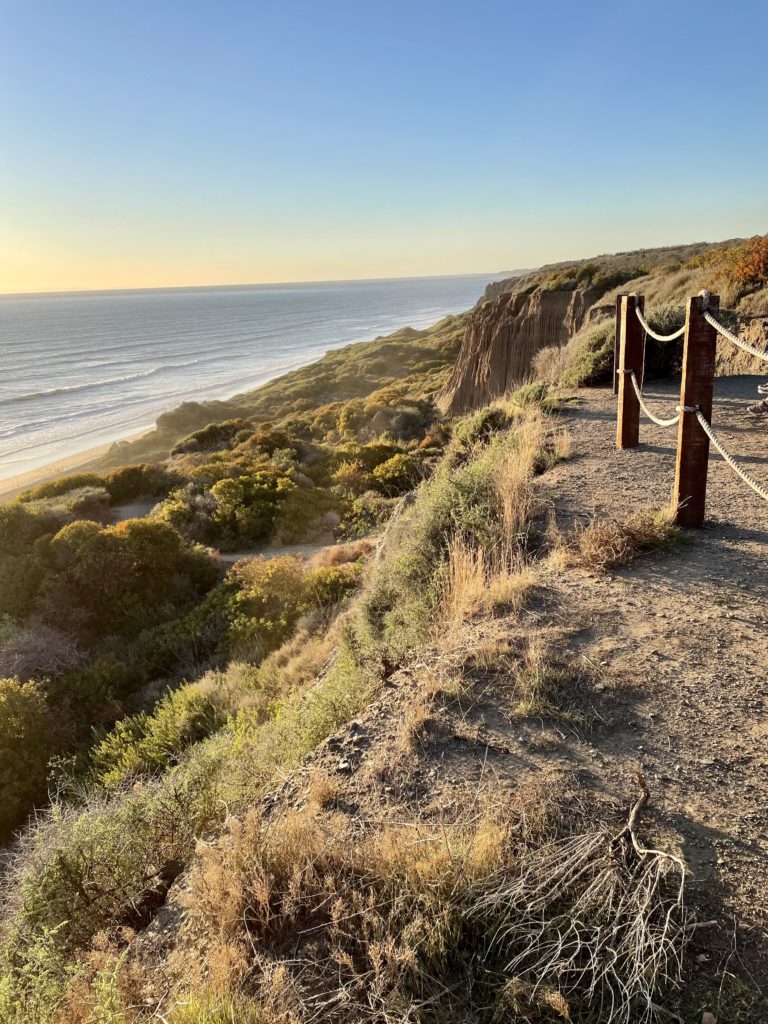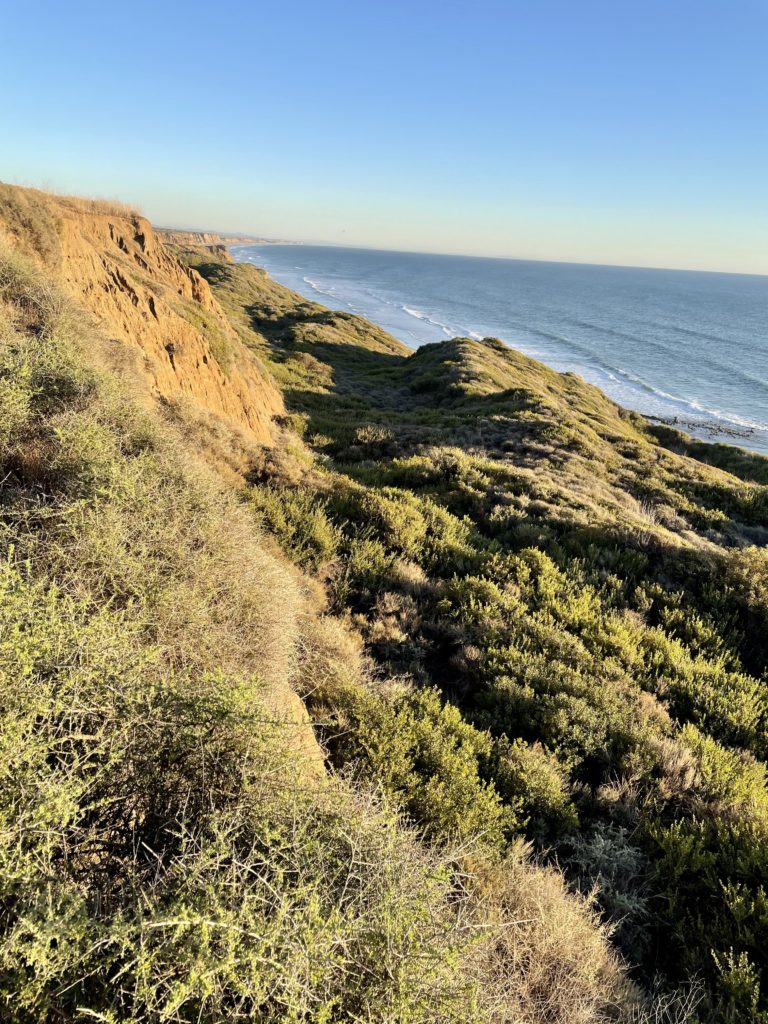 We had the most amazing day. I spent most of Monday daydreaming about the day we had on the beach. We will definitely be returning.