There's one thing I loathe more than anything about a project and that is sanding. Most often it's hard to avoid, and you probably shouldn't avoid it if you want the piece to have longevity. BUT, not with chalk paint!! Chalk paint is well known for the lack of prep work you need to do before painting. So naturally, I gravitated toward it.
Chalk paint also gives you a velvety matte finish, which I also liked. I thought I'd try Annie Sloan's chalk paint on this set of Hemnes dresser we got from Ikea a few years prior. My daughter's room needed a big girl revamp, and the dresser we used in her nursery no longer fit the style of her room. I used Annie Sloan's bright white paint called Pure. I used a paint brush for the entire piece and it took 3 coats to cover the dark stained wood. The great thing about this paint is it didn't take long to dry between coats. And if you sand the surface with a very fine grit between coats it makes for a very smooth finish.
I dismantled the drawer fronts to easily paint them. This made it easy for the mirror, trim, and hardware installation too.
After the chalk paint dries it needs to be sealed. Annie Sloan has a wonderful wax topcoat. It can be applied with a brush or a cloth and be buffed into the paint. It's very easy to use. I used clear wax. If you prefer a more aged look, the dark wax seems to work great. The wax, however, takes a day to dry but 21 days to fully cure. The piece of furniture can still be used while it cures, but very lightly. So be careful.
We found a local mirror and glass distributor here in Orange County called Ace Mirror & Glass, and ordered the sizes we needed for the drawer fronts. They were so helpful and patient. We glued the mirrors onto the drawer fronts with mirror glue and clamped them down to dry overnight.
I bought trim from home depot for the edges of the drawer to give it a more refined look – this is the one I used here. I used a miter box with saw to make the cuts.
Most little girls like all things sparkly and glittery, so it was a must for crystal drawer knobs. I found a great deal on Amazon here. We used E-6000 to glue them onto the mirror and left them to cure overnight. I can't say enough good things about the E-6000 glue. I've used it for so many projects.
Once everything was cured, I built everything back together and moved it into her room. I was really impressed with how it turned out.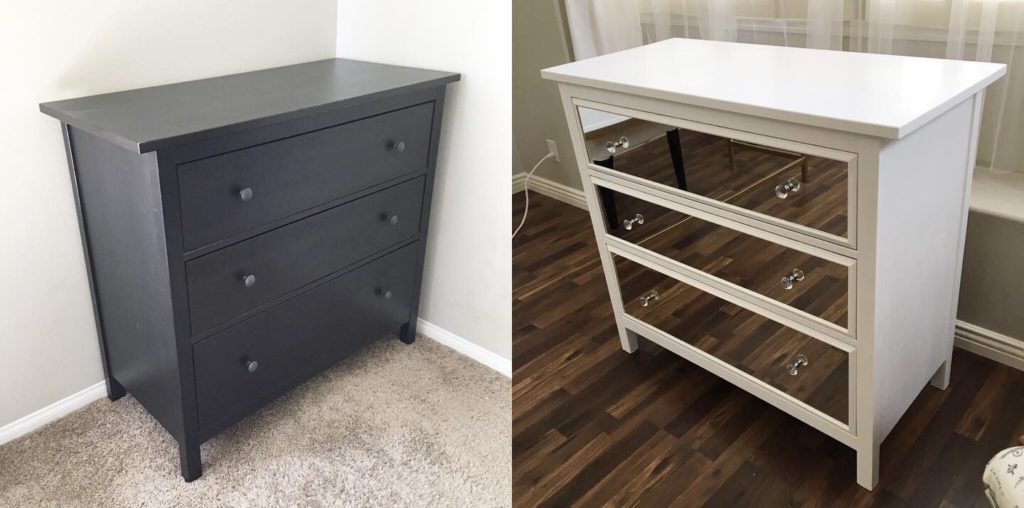 PRODUCTS IN THIS POST:
---
UPDATE 5 YEARS LATER:
Paint hasn't chipped – even without sanding, the paint adhered! One drawer knob fell off but only due to my son hanging on it like a monkey – he's 3. Luckily the dresser is anchored into the wall so it didn't fall over – which is a MUST if you have littles. The mirrors and trim have held up great. It's still one of my fav pieces.