IKEA is one of my favorite places to go to get stuff for the kids. Their simple design makes it easy to fit into any style, especially when you can personalize it. It makes for a super quick & easy LATT hack. You can't beat the prices either. The LATT table and chair set is made out of raw pine so it's a blank canvas ready for personalizing.
We bought this set for my daughter when she was about 2 years old and it's gone thru two makeovers since. It's one of my kid's favorite things to move around the house wherever they are playing. My 7-year-old still sits at it even though she looks like a giant.
All you need for this LATT hack is:
First hack – for the girly girls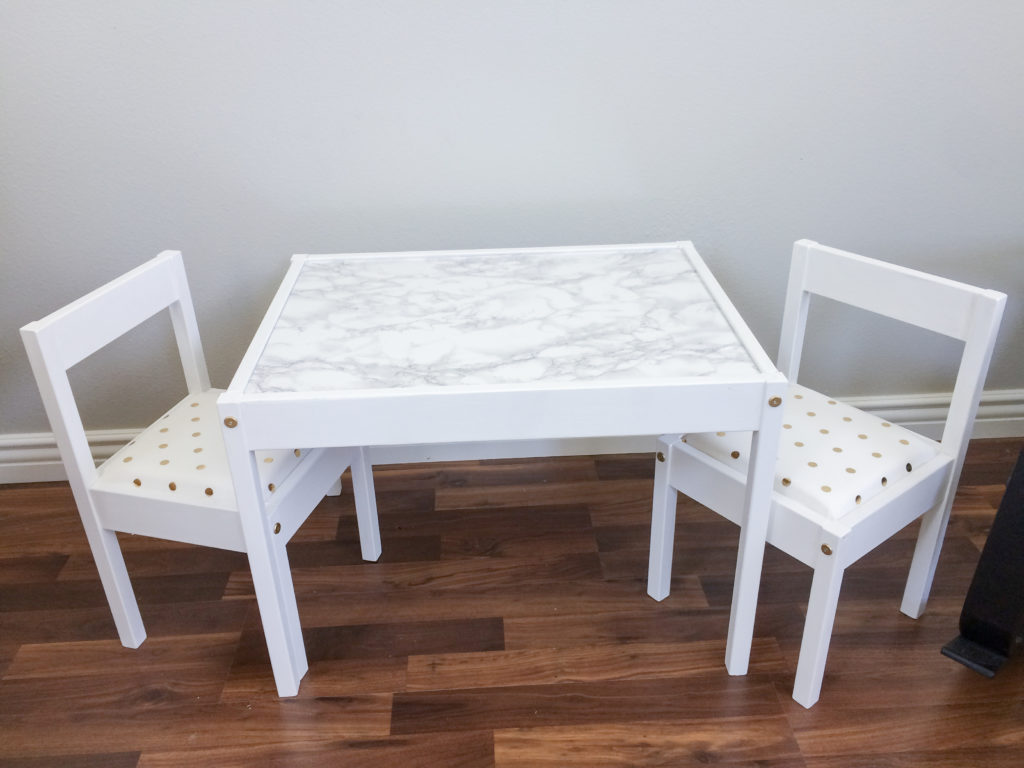 PAINT
The LATT set comes in pieces in a box. You'll need to build it. But before you do, it's a good time to paint all the individual pieces. The first time we gave the LATT set a makeover I wanted the style to fit into the decor of my daughter's room. Go check out the other IKEA hack we did to spruce up her dresser here, and the French Provincial Nightstand makeover here. I used Annie Sloan's Chalk paint in 'pure' for those projects and wanted everything to match, so I decided to use it on the LATT Hack too. The hardware needed a little something so I sprayed them with gold spray paint. I loved how the gold detail gave a pop of glitz.
TABLETOP
For the tabletop, I thought a marble look would be so beautiful in her room. It went so lovely with the grey walls, white furniture, dusty pink comforter, and gold & crystal accents. I ordered this affordable Marble Con-tact paper from amazon and stuck it to the tabletop board. I still find things to use the marble con-tact paper on 5 years later, it's great. You don't necessarily need to use con-tact paper or wallpaper for the tabletop. You could paint it or just leave it as is.
SEATS
For the seats, I found this 2″ foam from home depot. It's a perfect size to cut seat cushions for both seats. I used a serrated bread knife to cut the foam to size. Make sure to cut the foam a little smaller than the base of the chair. When you build the chair you'll notice that about 1/4 of inch of the chair baseboard goes into a wood slit on the inner sides of the seat. You don't want the foam getting in the way of that.
Did you know you can get fabric samples from Hobby Lobby? It helps so much when you are trying to match colors in your decor or if you're not sure how the color will look in your home. I found this beautiful white and gold polka dot material and thought it would tie in nicely with the decor in my daughter's room. Before cutting, I placed the seat base on the material, added 2 inches to all sides (because of the thickness of the foam). Then I added another 1-2 inches to all sides so I could pull the extra fabric under the base and staple it to secure. Pay attention to the sides and corners when you fold the fabric over. Keep in mind the base still has to slot into the slit in the sides of the chairs, so make sure the material is not scrunched up.
Scroll down to "Now finish it off" to complete the girly girl look.
Second hack – for the boys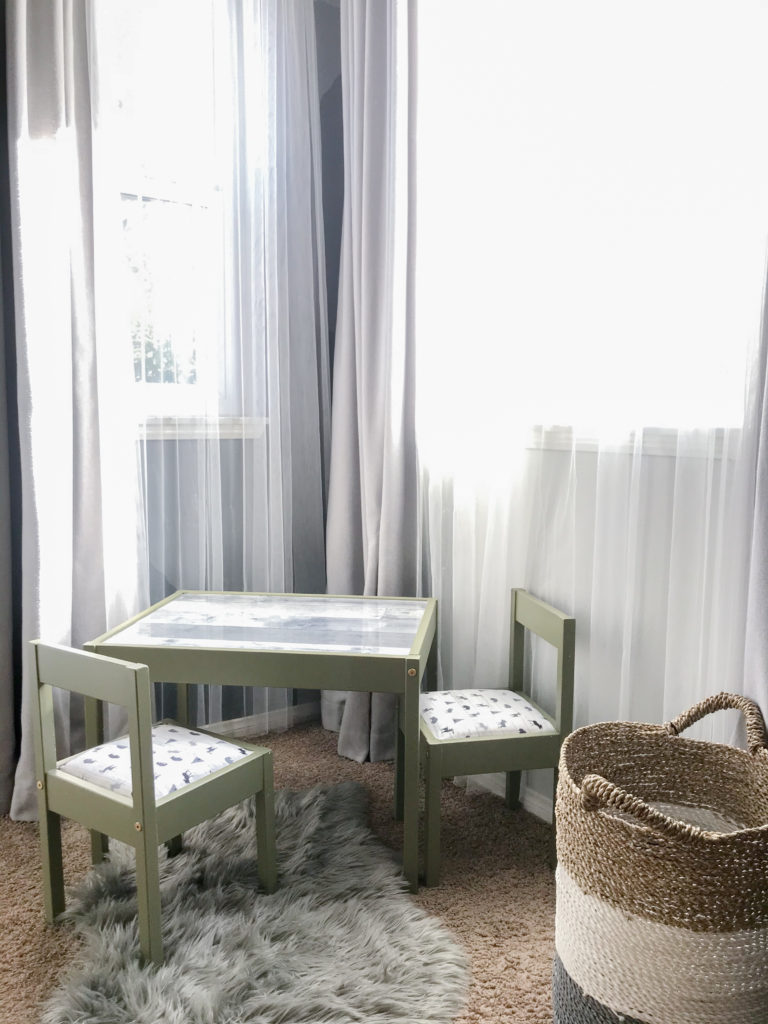 PAINT
The second time we gave the LATT set a make-over, it was for my son's room. It was around the time we started homeschooling because of the pandemic. I had to get him excited about sitting at a desk to do home school with me and to occasionally log into his laptop for virtual circle time. What better way to get him excited about home school than have him help me paint his very own desk in his favorite color, green! The table was very well used so I made sure to clean it with TSP and then gave it a light sand before painting. I used 'Olive Grove' by Sherwin Williams. I left the hardware gold from before because it looked SO good with the green. This second LATT hack, specifically the paint job, ended up being an epic fail, read to the end to find out why? Learn from my mistakes!
TABLETOP
For the tabletop, even though the marble contact paper looked great with the green, it needed a change. In my son's room, we had a massive rustic wood barn door as a closet door. His dresser had wood wallpaper on the drawer fronts that I got from Target. So you can see where I was going with this. I thought a wood element would be perfect for his tabletop. We luckily had leftover from the dresser makeover. It ended up tying in nicely with everything and was super easy to peel the marble con-tact paper off and reapply the new wallpaper.
SEATS
For the seats, I used the same foam from before. It was still in great condition. I went to Hobby Lobby again and got a few samples of fabric to match my son's decor in his room. They had such a good collection, it was tough to choose. I picked my favorite two and let my son pick his favorite one. I made the cuts just like before (scroll up for more details on how to cut the material) and pulled the fabric over the foam and base and stapled it to secure.
Now to finish it off
Once all your pieces are painted and the chair cushions are complete, you can build your table and chair according to the LATT instruction booklet. To finish it off, I used a clear acrylic sheet for the top of the table. I measured the inside of the tabletop and cut the acrylic sheet with a Stanley knife. I nipped the corners off and sanded them round so they weren't sharp. This also allowed the sheet to drop easily into the space. The sheeting will protect your tabletop surface from getting banged up or getting stained with kids colored pencils and paint. It's super easy to wipe clean and the sheeting kept the top looking sleek.
Here it is, the Epic fail…
Turns out, I forgot I had sealed the first LATT hack with Annie Sloan's clear wax. I'm not sure if you're familiar with a wax top coat. But if you aren't, you need to sand that entire coat off before putting any new paint on it. The reason for this is because no matter what paint you use, IT WILL PEEL AND CHIP OFF with the slightest bump or scratch. I will need to sand the entire table and chairs down to the original wood, and then repaint it. But for now, I'll call it a derelicte look. So my fail, your lesson.
Putting the fail aside, I loved how both hacks turned out. It really personalized the table for each of my kids and made it uniquely theirs. The LATT set has had many hours of play, indoors and outdoors, and will have many more to come in the future.