This Spinach Artichoke Chicken Skillet recipe is delicious and a family favorite. If you are a fan of Spinach Artichoke dips, then this recipe is for you! It's super quick and easy too! I enjoy cooking. But if a recipe takes more than 30 minutes, it just doesn't end up working out with our routine.
Jump to Recipe
I found this recipe on The Healthy Consultant blog. I changed it slightly only because it was more convenient. But if you'd like a whole30/Paleo/Keto version go check Abby's recipe out here.
I'm a sucker for Trader Joe's products. I think they're very well priced for the quality of food you get. And the food is incredibly delicious and healthy.
These are the products I insist on getting from Trader Joes for this recipe:
Chicken Broth
Organic Coconut cream
Marinated Grilled Artichoke Halves
CHICKEN BROTH
The Chicken Broth from Trader Joes is my ultimate favorite. It tastes like a yummy roast chicken. It doesn't have an overpowering taste or weird smell. Just the right amount of flavor for any recipe. I use it in soups, pasta dishes, chicken skillet dishes, even sauces. Club Trader Joes has a really good post comparing the broths at Trader Joes, go check it out here. It's hard to beat, especially for $1.99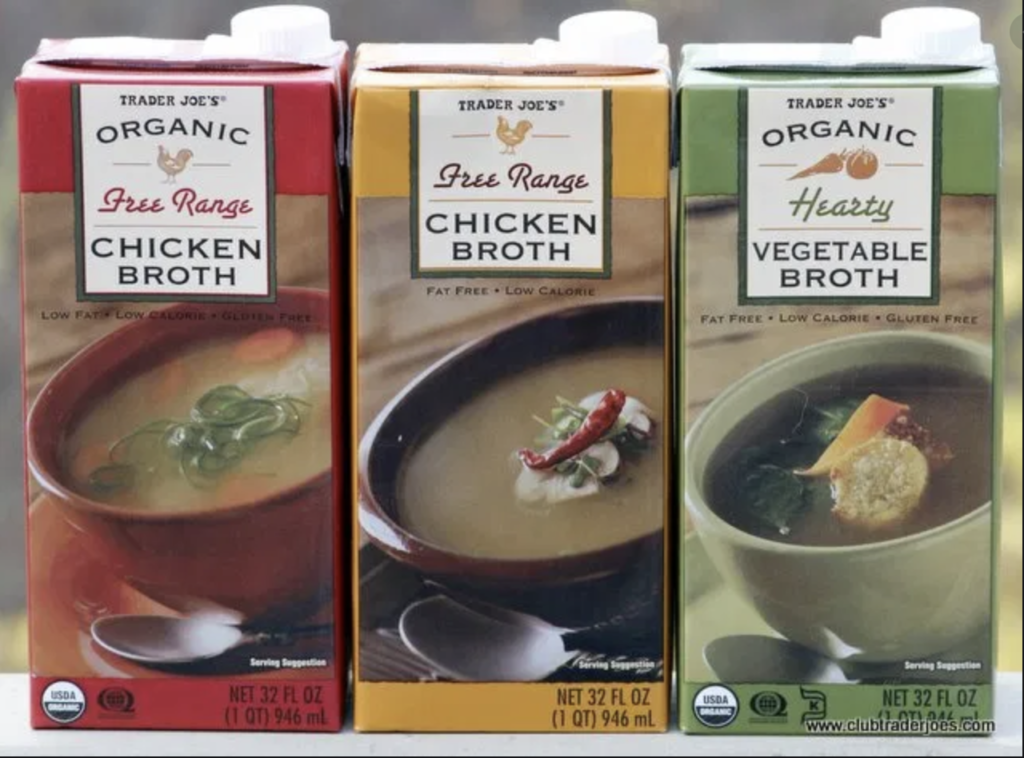 COCONUT CREAM
I've tried many coconut cream and coconut milk options. Trader Joes has one that is by far the best in my opinion. It's the creamiest! If you're looking for a really nice thick coconut cream that is delicious, then Trader Joes is the place to go. And for a whopping $2.29, you can't go wrong. Once you try the coconut cream, you won't use coconut milk in your recipes again. I use this coconut cream in my Butter Chicken Curry recipe too, found here. Good Thyme Kitchen gives their top 30 Favorites from Trader Joes, and I must say I totally agree, go see if your favs make the list.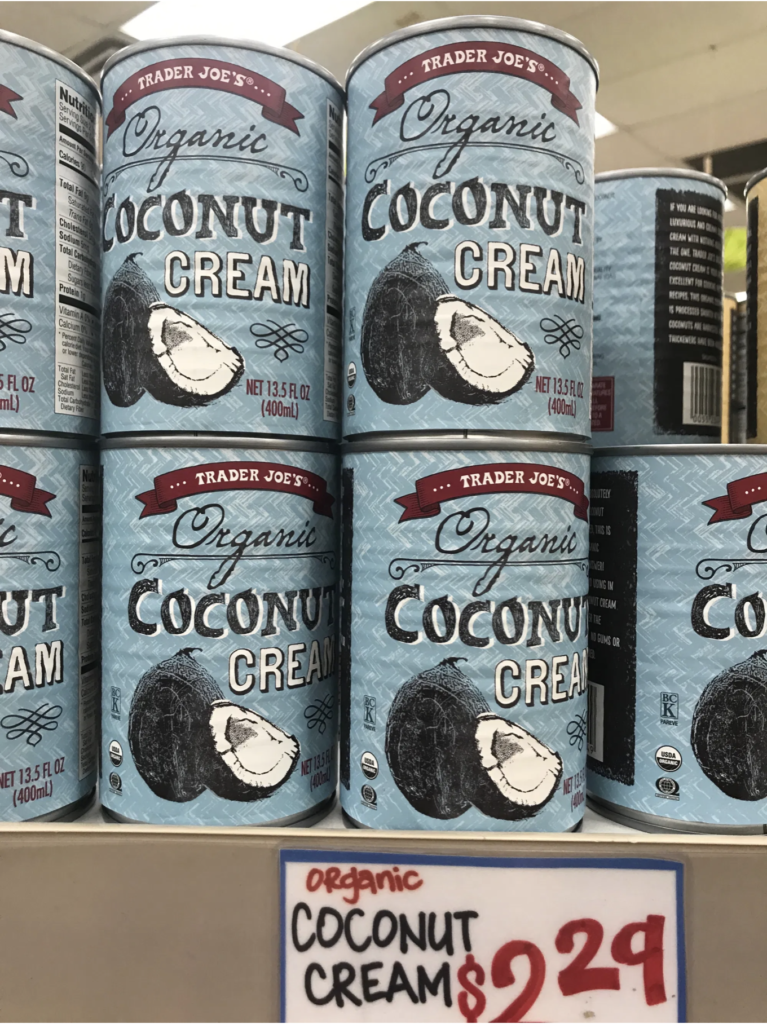 ARTICHOKE HEARTS
I don't know about you, but preparing fresh artichokes seems like a mission. These artichoke halves from Trader are to die for. They are grilled and bottled in marinade. AND the jar is only $2.99! These artichoke halves are a crucial part of this dish, I think it's responsible for most of the flavor.
So without any further ado, here is my take on the Spinach Artichoke Chicken Skillet
Spinach Artichoke Chicken Skillet
Ingredients
2

large chicken breast (or 4 small-medium)

Halved

1

tbsp

Basil

1

tbsp

Garlic powder

1

tsp

Pink himalyan salt

1/2

tsp

black pepper

1

tbsp

Olive oil

1

tbsp

Olive oil

3

cloves

Garlic

minced

1/3

cup

Red onion

finely diced

1/4

cup

Chicken Broth

1

can

coconut cream

13.5 oz

1/2

lemon juice

1

tbsp

flour

1/2

tsp

salt

1/4

tsp

black pepper

12

oz

marinated grilled artichoke halves

whole jar, drained

2

cups

baby spinach

packed cup

handful

Mozzarella cheese

grated
Instructions
Season the chicken breast on both sides with basil, garlic powder, salt and black pepper. Heat oil over medium heat in skillet. Sauté chicken breast on each side for 6-8 minutes. Transfer cooked chicken breast to a plate. 

Wash skillet out to remove brown bits. In the same skillet, over medium heat, heat oil. Add garlic and onions, and sauté over medium heat for 1-2 minutes. 

Serve hot over Rice or Cauliflower rice or pasta or greens.